How Do Clear Braces Work?
Clear braces are formed with translucent ceramic. The wire braces frame is called the "arch wire" which runs along the teeth to hold the braces in place.The strong steel wire pressures the teeth in the correct direction through brackets placed on each tooth. The brackets are fixed to the teeth using orthodontic bands, or by being bonded to the teeth. Spacers are then used to make space in between the teeth for the orthodontic bands. If a patient does not like the metallic look of the stainless-steel wire, frosted or colored wires can also be used.
Invisalign Clear Braces
If a patient doesn't like the appearance of braces, Invisalign clear aligners are also available. Invisalign aligners are removable clear aligners for both the upper jaw and lower jaw. They are created to put force on your teeth while being worn. The patient gets new sets of Invisalign aligners every two weeks until the teeth are straightened. The last set of aligners work as a retainer for a few months in order to prevent the teeth from moving. Click here to learn more about Invisalign.

Ceramic Invisible Braces
Ceramic braces are also an option to straighten teeth. They are formed with tooth-colored bands, tooth-colored brackets, and an arch wire. Some brackets can be made with colors that match natural teeth. Colored bands can also be used for adolescent and teenage patients. The metal arch wire that is used with ceramic braces is coated with a tooth-colored material to blend in with the natural teeth.
Pros of Ceramic Braces – Appealing appearance.
Cons of Ceramic Braces – Not as efficient as traditional metal braces with tooth movement and straightening. They can also be expensive in comparison to traditional braces. Ceramic braces can also stain easily if oral hygiene is not maintained.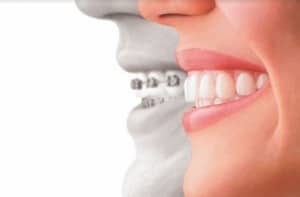 Lingual Braces
This is a popular teeth straightening option that is barely visible to others. Lingual braces are bonded to the inner surfaces of your teeth so they aren't as noticeable. The design of lingual braces is similar to traditional and clear braces; they have slots through where an archwire passes through. The archwire must often be adjusted to ensure the proper alignment of the teeth.
Pros of Lingual Braces – Lingual braces are undetectable by the naked eye.
Cons of Lingual Braces – Due to their position, cleaning them can be difficult. The archwire and brackets can interfere with the function of the tongue and can alter speech and mastication. Adjustments also take a longer time to take effect and can cause injury to the tongue and other soft oral tissues.
Traditional Metal Braces
Metal braces have been used for a long time in dentistry to treat orthodontic problems; traditional metal braces are made with quality stainless steel alloys, and bonded to the teeth with help from orthodontic adhesive cements.The alloys have slots for the passage of the archwire. The archwire is also fastened to the brackets with rubber bands, or "ties".
Pros of Metal Braces – It is easy for the orthodontists to control the movement and alignment of teeth with metal braces. They can be used to treat severe orthodontic cases, which otherwise can not be done using other orthodontic options.
Cons of Metal Braces – Metal braces have an obvious metallic appearance. They can also scratch the soft oral tissue.
Make an appointment today with us today. We are near Bristol Farms on the Palos Verdes Peninsula in the South Bay. Call us today and see how we can help you get the new, beautiful smile you've always wanted! Our expert dentists will be sure that your questions are answered and you are confident in your decision.