PPO Dental Insurance
---
PPO dental plans are the more popular types of plans amongst families and individuals. This kind of dental insurance provides in network dentists for you but also allows for you to choose a dentist in Palos Verdes, outside their network. There is no referral needed. You are allowed to switch your dentist whenever you choose to without calling your insurance.
There is typically an annual deductible that must be paid before insurance covers dental services. The insurance covers a part of the cost while the patient covers the rest.
You have to pay annual deductible but the amount will depend on which insurance provider and which plan you have. A patient's annual maximum also depends on which dental provider and plan they have signed up for.
With a Dental PPO plan, you receive coverage whether you visit an in-network or out-of-network dentist; however, you save more when you use an in-network provider. An in-network dentist has made an agreement with your insurance company to charge up to a certain dollar amount for covered services. So, you pay a coinsurance, which is a percentage of this negotiated fee and the insurance company pays the rest of that negotiated fee.
When you use an out-of-network dentist, your coinsurance is higher because that dentist does not have an agreement with the insurance company and will therefore, charge his or her usual fee for all procedures.Once you use a network provider, they will file your claims for you.  If you receive care from a non-network dentist, you most likely will have to file your own claim.
Depending on the kind of insurance a patient has will determine which dentist they can go to. We accept a variety of Preferred Provider Organizations for dental care.
Certain insurances may allows for patients to receive exams, treatments, and procedures at the dentist office with co payments or no cost at all. If your insurance covers work done by your PPO dentist closest to you, our dental office will help you file a claim.
As a courtesy to our patients, we will submit your insurance claim to your carrier. However, we cannot guarantee any estimated coverage, since the insurance policy is an agreement between you and your carrier.
Payment for services rendered during your visit is expected to be paid in full after each visit. Remember, if you have dental insurance, your insurance company will pay you direct after your claim has been submitted by either you or our office on your behalf.
---
Types of Insurance We Accept
---
We accept a large number of insurance carriers. Here are some of the most common:
---
Delta Dental
---
Delta Dental allows for low cost dental services as well as choice of your dentist. With Delta Dental, there are two different PPO plans available to customers including the Delta Dental PPO and the Delta Dental PPO plus Premier plan. In the Delta Dental PPO, dentists are top fee schedules as payments in full and are prohibited from billing and collecting fees in excess of the agreed upon schedule. The Premier plan adds a certain financial security for enrollees and and groups not seen elsewhere.
Members of this plan do have an annual maximum coverage, which is  a set amount of coverage they are allowed to use over a certain time period, typically a year. Your annual maximum depends on the kind of coverage you have.

The above logo is property of Delta Dental
---
Metlife
---
Metlife offers one of the nation's largest networks meaning that there is less disruption to the plan; there is still the option to go outside the network and still receive great benefits. Negotiated dental fees range from 15% – 45% lower than the average charges with the fees possibly expanding to non-covered services.

The above logo is property of Metlife, Inc.
---
Aetna
---
Covers preventive care which includes check-ups, cleanings and x-rays and is almost always completely covered. This insurance also covers a variety of different services ranging from fillings to root canals and crowns.
With this plan members get a choice of deductibles, coinsurance levels, maximums and benefits levels. You may choose between having a self funded plan or insured options.
Members get the option of choosing which dentist they would like to go to. Those who use non-participating dentists will be reimbursed based on the standard negotiated fee only and may be balance-billed by the dentist. Patients may also visit any licensed dentist without having to get a referral.

The above logo is property of Aetna, Inc.
---
Cigna
---
Cigna has three different PPO plans which include the Cigna Dental Preventative, Cigna Dental 1000, or the Cigna Dental 1500. In the first plan, there is no yearly maximum, no deductible and all of the preventive and diagnostic services charges. With Cigna Dental 1000, the plan pays up to $1,000 annually after a $50 individual/$150 family annual deductible. The Cigna Dental 1500 is nearly identical to the 1000 plan other than that it pays up to $1,500 annually.
With members in this plan who are seeing in network dentist as well as out of network dentist there is no charge for preventive or routine care after the deductible. For things like fillings, extractions, crowns, root canals, surgery, general anesthesia, gum treatment and dental repair,crowns, bridgework, dentures patients pays 25% or 50% depending on service. With this plan you share cost with dental services.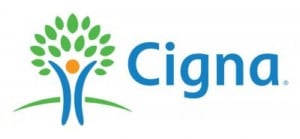 The above logo is property of Cigna, Inc.
---
Anthem BlueCross
---
At Bluecross, there are two different plans: Dental Blue Basic Plan and the Dental Blue Enhanced Plan. In both plan, preventive services are completely covered within the network and 80% covered outside of it (after a six month waiting period for the basic plan).  With Dental Blue Enhanced there is a 12 month waiting period for major services.
There is a 20% fee for fillings inside the network and 40% when going beyond the network. The deductibles for individuals are both $25 with the enhanced plan costing $150 per family. Dental Blue Basic has an annual maximum of $500.00 while the annual maximum for Dental Blue Enhanced is $1,250.00

The above logo is property of Anthem Bluecross
---
United Concordia
---
With Concordia, preventive services are not included in the deductibles; deductibles are $100/300 with an $1,000 annual maximum. For qualifying members, there is 100% coverage for periodontal services. In most non-covered services, there is an average discount up to 30%.
The above logo is property of United Concordia
---
Assurant
---
With the Secure Choice Individual Plan, there are no deductibles, no claim forms, and no annual maximum and has a fixed copayment schedule for Plan Dentists and Plan Specialists.

The above logo is property of Assurant
---
Guardian
---
The biggest catch in the Guardian's PPO plan is that you have an average savings of 30%, which allows you to save money on treatments while protecting the health of you and your teeth at the same time. You will also know what your payment will be in advance as a pre treatment cost estimate will be provided. In the Premier Access plan, everything in the basic plan is available but the savings are far greater.

The above logo is property of Guardian
---
Disclaimer: This information is subject to change on behalf of the insurance company. We are providing this as an informal guide to help you determine which services at our office are covered by your insurance. For more detailed information please visit the insurance's web page or contact the customer service or member service number listed on most ID cards.
Our staff at Rolling Hills Dental Group will be happy to help you determine how much your PPO insurance plan will cover for your treatment. Call us today, and schedule a visit with our office in the South Bay, CA.